Whee, holiday! *runs around high-fiving everyone*
You know, a year ago this weekend I was fresh off my first fortnight of Bugpocalypse. Everything I owned was either in storage or in plastic bags, my place was practically unlivable in part thanks to the ten tons of Raid I had sprayed everywhere so my cat and i had retreated ("strategically relocated") to my parents' place, and I was staring down the barrel of an infestation with no end in sight. Now, a year later, I'm sitting on my new couch in front of my wonderful, beloved television in my freshly so-close-to-done-I-can-feel-it renovated condo, slowly moving things back in and looking forward to a fall of courses to learn ALL THE THINGS (sewing! woodworking! printmaking! BOO-YEAH!) and continue to whittle down my belongings to a more manageable number.
I can't remember if I've announced this yet here, though I know I've been talking about it in person: my plan is to have my solarium completely emptied by Christmas so I can try and get a roommate. Then, by saving the extra cash, I'll have enough to afford to take a year off in two years time. My plan is to ask for a year off six months out, and if I can't return to my job so be it: I'll quit. *deep breath* So that's the PLAN; we'll have to see how it actually plays out over time. Life does have this pesky habit of changing.
So, what's been up with me lately?
I've been continuing to love the hell out of the BBC Sherlock, and spend spare moments happily rolling around in all the fantastically well-written fic which its fandom is constantly producing. The awesome caffienekitty has initiated a series of "reccing Sundays" henceforth going on weekly at sherlockbbc for anyone just wanting to get straight to the best of the best.
Had a lovely if INSANELY busy week when eboniorchid was in town - among other things because I had, like, three different birthday dinners with different folks. <3 (Torontonian note: Dhaba is as drool-worthy a restaurant as ever and remains by favourite Indian food in town, but I also highly recommend Enoteca Sociale for fans of Italian. Crazy rich, but sooooo good!) And that weekend - last weekend - was FanExpo: more about that later!
I've mainlined the first season of Merlin, and will concede I can see why people like it. (Though I more want to pinch the boys' cheeks/noogie their heads than slash them. They're just so earnest and adorable! *g*)
This past week I've finally taken the first of a few sewing classes at The Workroom to make better use of the sewing machine themoderatrix so kindly gifted me with many years ago. I'm quite excited, actually: I don't like wanting to do things but not knowing HOW, so I'm really looking forward to tackling a few in-house projects. *rubs hands gleefully*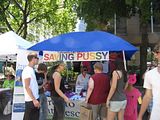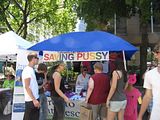 In other news, I realized I'd carefully uploaded all these pictures a few weeks ago of my June and July and never posted them. So, with no further ado, have
( a general picspam of June/July )