You guys, I survived the week! \o/
*happy sigh* I'm safely and serenely ensconced in a comfy hotel room up in Huntsville with my parents dozing away at the far end of the room. Tomorrow I get to see my brother's family, and Sunday is my eldest nephew's second birthday. I can't wait.
I have SO MUCH to talk about! So I figure I'll just tackle a topic or two this post, and then do another tomorrow, etc. But first things first: y'all were tremendously pivotal in helping make my final grout colour decision, so let's do that reveal, shall we?
It was really interesting watching the poll results come in: the first 12 hours had medium grey as the clear leader, but within a day medium and light were head-and-head. Once I realized that products exist to effectly stain grout lighter or darker, I decided to start light and go darker later on if I needed to. I was quite astonished in the end at how light the grout ended up: it looks white! Still, it turned out to be a great decision, since the resulting look really pops and is just FANTASTIC.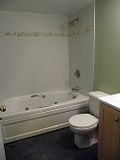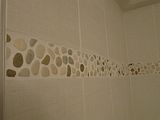 ( Lotsa pictures of the results and the new carpet )
ANYWAY. It is now stupid o'clock, so I'm going to stop blathering and post this bad boy. More later, I hope. Next up: neat workshops and cherry blossoms!